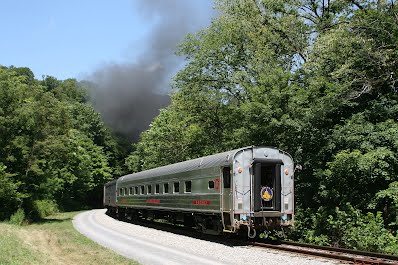 FRANKLIN INN restored in 1963 Pennsylvania Railroad Livery - July 2011 - Photo by Alex Mayes
FRANKLIN INN—is a stainless steel passenger car built by the Budd Company of Philadelphia in 1949 for the Pennsylvania Railroad as 21-roomette sleeper. It was later turned into a coach (its current configuration) for the 1964 World's Fair.
Beginning June 2011, the car is available for Charters as an Amtrak certified passenger car. It has two restrooms, including an restroom designed for the physically challenged, a wheel chair lock which doubles as a seat, 76 additional cushioned seats, rotating chairs, and large windows. The car has heating, air conditioning, titelock couplers, HEP, MU (push-pull), communications cables, a water raising system with on-board air-compressor, 420 gallon water tank, approximate 270 gallon waste water tank. The exterior of the car is silver/stainless based with simple PRR markings based upon her in her 1963 livery, which primarily was actually stainless steel with decals.
The Franklin Inn is available for charter and excursion service anywhere within the Amtrak system and for off-Amtrak service.
The cost of the charter depends upon where and when you want to travel, what services you want, and how many passengers will be traveling with you. Please keep in mind that no two charters cost the same and the only way to get an accurate price is to talk to the Charter Agent. It is a disservice to you and us to e-mail you a quote without first ascertaining your exact needs. We will turn a quote around to you as quickly as possible. A mechanical rider will accompany the car and additional crew to serve as hosts can be arranged for in advance. All Amtrak and other charges, railroad switching charges, and crew expenses are additional. Each charter is tailored to our client's needs, so please call for an exact quote.
The Amtrak number is: 800957
The car is registered the AAR with the reporting mark: NRHX142
For charter information please contact us.
Franklin Inn in a 765 Excursion Train – Joliet Rocket
History of the Franklin Inn
Pennsylvania Railroad #8258 Franklin Inn was built by The Budd Company in 1949 as a twenty-one (21) roomette sleeper. It was built according to plan #9513 in lot 9967, diagram 289.
The coach was constructed with 41-NP-11 trucks, and was painted in a Tuscan Red livery with gold lettering and black roofs. A diagram of the original floor plan can be found here.
A total of fifty cars were manufactured by Budd in class PS21B. The PRR's fleet of twenty-one roomette sleepers also included seven additional cars in class PS21A constructed by American Car and Foundry and two cars in class PS21C constructed by Pullman-Standard. A complete roster of these cars can be found on Garrett Spear's "The Complete Roster of Pennsylvania Railroad owned Streamlined Parlor and Sleeping
Cars" website, as well as a picture of sister car, Ashtabula Inn.
In 1963, the Pennsylvania Railroad needed coaches to replace an aging fleet of P-70 coaches for the Northeast Corridor for the New York World's Fair. Work on converting fifty of the Inn-series cars into coach lounges began on April 3, 1963 and was completed by December of that year by the Budd Company. With the rebuild, the cars were designated as Class P85L coaches.
Forty-eight of the cars had 64 coach seats and a small, twelve-seat lounge at the end opposite the vestibule, and were renumbered 1500-1547. Two of the cars had 64 coach seats with a six-seat snack bar lounge; these were numbered 1548 and 1549. Franklin Inn was PC 1537.
When outshopped, the cars' livery (external appearance) was comprised of simple, stainless steel, with PRR Keystone logos at each end on the window band and with red number boards at each end on the lower portion of the car side. The names of the cars were no longer carried on the cars. Beginning on October 9, 1963, this series of coaches was placed in service between New York and Washington.
Southeast Michigan Transportation Authority, SEMTA purchased Franklin Inn, along with 11 other 1500 series cars, in 1976, rehabbed the cars at Mechtron Industries in Wilmington, DE after the cars came to Detroit (and were stored in Windsor, Ontario before the purchase), and were used in SEMTA commuter service on the GrandTrunk Western until Oct., 1983. While in SEMTA service the Franklin Inn was named Pleasant Ridge and numbered as car No. 112. In 1984 SEMTA leased these cars to Metro North (MN). At some time after that the Michigan Dept. of Transportation took over ownership of the cars, and the lease, until MN no longer needed the cars.
The car at Poughkeepsie, NY October 1984 in Metro-North Service
but still wearing its SEMTA Livery – Photo by Jerry Laboda
Many of the cars, including DCNRHS' Inn cars, were last in commuter service in the eastern US. Franklin Inn last saw service as a commuter car, rebuilt for MARC train service, serving as part of MARC's Heritage Fleet. MARC applied the former PRR name to the car in 1994, at the time when they went through major rebuilding of the fleet. Franklin Inn was numbered MARC 142. The MARC Heritage fleet cars were retired from service in 2001 and were stored at MARC's facility in Brunswick, MD, when MARC acquired the MARC III double-decker coaches now in service principally on the Penn Line.
In November 2008, MARC passed title to MARC 142 to the National Railway Historical Society, Washington, D.C. Chapter, Inc (DCNRHS). The car was finally released to DCNRHS in early August 2009.
Franklin Inn in Marc Livery December 2008 – Photo by J. Lilly