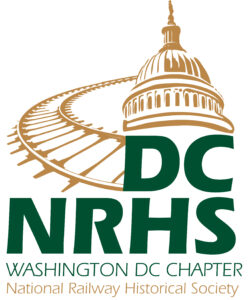 With great monuments to railroading such as Washington Union Station, great railfan locations, tourist railroads, museums, Amtrak and commuter rail, and lots of rail history right here in the local area, railroading past and present is alive and well in the Washington, DC area. Our organization is the place to be to be a part of it all.
The Washington, DC Chapter of the National Railway Historical Society, Inc. (Washington, DC Chapter NRHS) or DCNRHS is a non-profit 501(c)(3) education organization. DCNRHS was chartered in the District of Columbia in 1944.
Membership in DCNRHS is open to all those interested in the objectives and mission of this Society; the annual membership fees are by donation. We have over 500 members.
DCNRHS' mission is to "Expand the public appreciation of railroads and their history through preservation and education." We have monthly programs that are free and open to the public. We also produce several educational publications, including a monthly publications called The TimeTable.
DCNRHS is big on youth education. We offer annually a scholarship to a high-school student to go to RailCamp, and we sponsor two internships with the Business School at Davis & Elkins College.
DCNRHS has programs, and activities with something to interest everyone, including rail equipment restoration and operation, excursion train operations, community service activities, historical research, photography contests, and railfan outings.
DCNRHS has several items of railroad equipment, including the DOVER HARBOR, a restored 1923 Pullman Company heavy weight passenger car, three former baggage cars, and two former Pennsylvania Railroad Coaches. The DOVER HARBOR is frequently seen roaming the main lines of America in excursion, public trip, and charter service. We also operate two 1949 Pennsylvania Railroad Coaches, the Franklin Inn and the Collinsville Inn.
In cooperation with the City of Bowie, Maryland, DCNRHS operates the Martin F. O'Rourke Memorial Railroad Library. The Library is a free reference Library open to the public six days a week. DCNRHS is a member of AAPRCO (American Association of Private Rail Car Owners) and the RPCA (Railroad Passenger Car Alliance).
The Washington, DC Chapter NRHS is governed by a Board of Directors which consists of thirteen of its members. The board is elected by the membership. All members serve the organization voluntarily and without remuneration. We have no paid employees.
Our by-laws are available here.