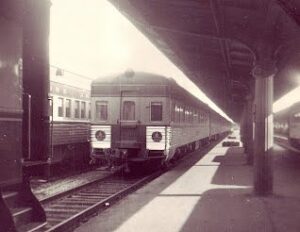 One of DCNRHS' major projects is to professionally preserver and put online/digitize resources related to railway heritage from the Washington, DC area. The project, called the Digital DC Railway Heritage Project, includes professionally digitizing historic photos, timetables, information and stories, and other rail road ephemera. Some of the materials such as photos may also be made available for sale as reproductions. DCNRHS received a major boost for the project in 2012 with a grant from the NRHS too help defray the technology, archive, and digitization costs.
In addition, DCNRHS is incorporating oral histories of Washington, DC area railroaders into the project, an effort that got underway last fall. The oral history component, which will capture the stories and recollections in video and written form as told through the railroaders' first-hand experiences. This effort is especially critical as father time marches on. We want their stories available for future generations. The genealogy project mentioned in last month's newsletter may also be included.
We are looking for individuals to participate in and contribute to the project, in the following ways:
Railroaders to tell their stories as part of the oral histories.
Stenographers/transcribers to listen to audio and video tapes and produce written transcripts of the histories.
Contributors of railroad ephemera and photographs that are suitable for digitization and putting online.
Contributors of vintage digitized videos (film may be accepted but is not preferred) of Washington, DC area railroading prior to 1988. We can take analog formats and VHS, S-VHS, Hi-8, and DV and analog formats. Send us an email and let us know what material you have and what formats it is in. We can then make a best determination of how to proceed.
Scanners to help us catalog, digitize, and archive materials for online presentation (we can train).
Computer and tech savvy individuals to help us setup the online systems and populate them with content.
Videographers to help us record the oral histories.
Interpreters to conduct the oral history interviews.
If you have questions about the project or would like to contribute in any of the ways mentioned in this article, please contact us. We will also accept monetary gifts to help support the project.
more about the Genealogy Research Effort
DCNRHS has a substantial collection of the Baltimore & Ohio Employees Magazine, which was printed monthly from 1912 to 1961. In addition DCNRHS has access to a private collection of the magazines. Together the collections comprise a nearly complete collection of these historic artifacts.
The Employes Magazine contained a variety of information including company news and announcements, various advertisements, notices about promotions, deaths, births, welfare of railroad families, and other items of interest across the B&O system. Local representatives contributed to the magazine. An example article appears in the next column.
As part of our digital history project, DCNRHS is looking for a volunteer(s) to create digital genealogical records of these magazines and to help us make them available on-line. If you are interested in working on such a project to help us make this information available in a digital format, please contact us.
NOTE: If you are looking for genealogy information, at this time we regret that cannot help you until this project is completed. A portion of the magazines are available for review at our library. Please do not ask for research help at this time.
More about the Oral History Effort
Did you work for a railroad in the Washington, DC area (within 75 miles), or do you know someone who did? Please contact us. We would like to hear your story and consider it for inclusion in our oral history project. We are creating a digital video record of former railroaders and making it available online and for other educational purposes.
We are also seeking individuals to help us record the oral histories through quality digital video captures of these stories, transcribers (or to help us) create a written record, and interviewers to help solicit the stories. If you have an interest in railroading this is a project that puts the people in the historical context of the old equipment, photos, buildings, and ephemera we are all so fond of. DCNRHS will pay for the costs of consumables, and provide training where appropriate. We assume videographers can provide their own equipment.
Here are some links to a few sample videos from our project:
B&O Employees Magazine – Volume I – No. 1 October 1912 cover from the collection of J. Lilly
Historic Capital Limited Photo by Bill Hakkarinen
Oral History Session Photo by J. Lilly