| Date | Destination | Title | Description | Details | Reserve Now |
| --- | --- | --- | --- | --- | --- |
| October 15, 2021 7:30 PM | online | Dinner in the Diner | John Fowler will give us a look at Dining Car Collectibles and dining car china history. | Free public program sponsored by DCNRHS. | Register free now online here.  |
| October 16, 2021 | Williamsburg, VA & Newport News, VA | Tidewater Traveler | Experience luxurious rail travel aboard the classic 1930s Pullman car Dover Harbor-- travel to the Tidewater region of Virginia to Williamsburg, the Colonial Capital, or to the maritime city of Newport News. | Public rail excursion - get more information. | Reserve Now! |
| November 28, 2021 - 10 am - 4 pm | Railroad Library at Bowie Tower | Railfan Sunday | Train watching at Bowie Tower. Come visit our railroad library and see the trains on Amtrak's Northeast Corridor on the busiest day of the year. | Free and open to the public. | No reservation required. Visit the Railroad Library |
Here is a picture of a form used by Washington Terminal to track passenger train
Read More »
Our digital archives site, Washington Terminal Project, has a fascinating new image of the track
Read More »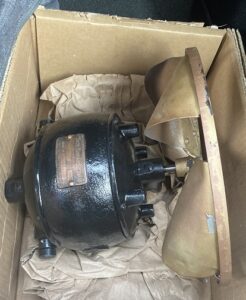 This is a 98 year old exhaust fan from our 1923 Pullman DOVER HARBOR. The
Read More »
Rule 99(F). When an employee alone finds track or bridge unsafe for trains at normal speed, he must immediately place a red flag by day, or a red light by night, between the rails of the track, or to the right of the track as viewed from an approaching train, in both directions one-fourth mile from the point to be protected. After the red signals are placed, he must go in the direction from which the first train is expected. One mile from the red signal, he must place two torpedoes on the rail not less than 150 feet apart. Continuing back two miles from the red signal he must place two torpedoes on the rail not less than 150 feet apart. He must then place torpedoes in the same manner in the opposite direction. Where there are two or more main tracks, signals must be place in both directions on all tracks affected. After the signals have been placed, flagman must return to the point of obstruction and remain until relieved by another flagman, except that it a train approaches, he must go toward it and flag it with hand signals.
Union Pacific Railroad Company. Operating Rules Effective May 1, 1972.
Historic 1923 Pullman on the mainlines of America at Mableton, Georgia
Travel a Legend: Pullman Dover Harbor
Join our Trip News mailing list
Ever want your own Pullman reproduction blanket? Or how about one of our Dover Harbor T-Shirts? Come take a walk through the Company Store! We have those items and more.
Help DCNRHS when you shop!
You shop, and merchants give back. Sign up at 
For more information and how to find us, click here.
Buy posters of our photos & more at our digital store! Take a look at our Zazzle Store by using the above QR code.