| Date | Destination | Title | Description | Details | Reserve Now |
| --- | --- | --- | --- | --- | --- |
| 11/08/2023 | Albany-Rensselaer, NY (one-way from New York City) | Hudson Interlude | Enjoy Pullman Parlor service as your travel along the beautiful Hudson River on the route of the famed Empire State Express and 20th Century Limited. | See our Trip Flyer | Click Here to Reserve On-line |
| 11/08/2023 and 11/09/2023 | New York City to Boston via Albany-Rensselaer, NY (one-way) | Hudson & Berkshire Interlude | Enjoy Pullman Parlor service as your travel along the route of the former New York Central Railroad through New England | See our Trip Flyer | Click Here to Reserve On-line |
| 11/11/2023 | Williamsburg/Newport News Virginia (Round-trip from Washington, D.C.) | Tidewater Traveler | A Pullman day-trip from Washington, D.C. to the Tidewater Region of The Old Dominion - Virginia | See our Trip Flyer | Click Here to Reserve On-line |
| 11/09/2023 | Boston (one-way from Albany-Rensselaer, NY) | Berkshire Interlude | Enjoy Pullman Parlor service as your travel through the Berkshire Mountains along the route of the famed "New England States" | See our Trip Flyer | Click Here to Reserve On-line |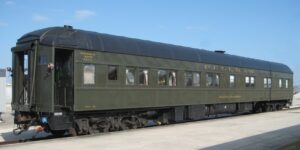 Happy 100th Birthday to Pullman DOVER HARBOR. Born in The Pullman Company's steel car erecting
Read More »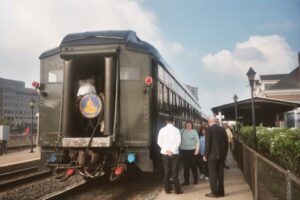 DOVER HARBOR boards passengers at Alexandria Union Station on a DCNRHS trip.
Read More »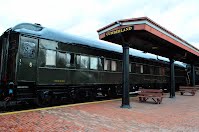 We are selling for a limited time special commemorative DOVER HARBOR 100th Fundraiser items to
Read More »
Movement of Trains
Rule 301. Freight trains authorized to carry passengers will be designated by bulletin, or by special order of Superintendent.
Northern Pacific Railway Company, Rules and Regulations Operating Department, Effective June 1, 1899.
Historic 1923 Pullman on the mainlines of America at Mableton, Georgia
Travel a Legend: Pullman Dover Harbor
Join our Trip News mailing list
Ever want your own Pullman reproduction blanket? Or how about one of our Dover Harbor T-Shirts? Come take a walk through the Company Store! We have those items and more.
Help DCNRHS when you shop!
You shop, and merchants give back. Sign up at   
For more information and how to find us, click here.
Buy posters of our photos & more at our digital store! Take a look at our Zazzle Store by using the above QR code.     
Please click text above to download your own copy of the 2023 calendar.