| Date | Destination | Title | Description | Details | Reserve Now |
| --- | --- | --- | --- | --- | --- |
| Apr/19/2024 7:30:0 | Monthly Program | Rail Photo Exhibition | Alex Mayes presents a photo essay from a rail odyssey | Free and open to the public.  Registration will open about April 1st. | |
| Mar/16/2024 1:0:0 | Washington, D.C. | Washington Terminal | Learn a mix of Washington DC railroad and streetcar history on a two-mile, two-hour guided walking tour along the Metropolitan Branch Trail on Saturday, March 16, 2024. This "archeological" tour focusing on the Washington Terminal Company will begin at 1:00PM at the Rhode Island Avenue Metro Station. | Trip Flyer and Details. | Click to Reserve Your Spot Now! |
| Mar/15/2024 7:30:0 | Monthly Program | Railroads and the Military | Learn about the long relationship between the railroads and the military from historian and talented photographer Bill Hakkarinen and General Jack Griffin (retired). | Free and open to the public.  Registration will open about March 1st. | |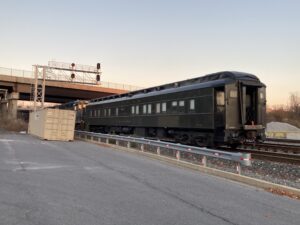 DCNRHS' centurian Pullman Dover Harbor passes the signal at Meade near Annapolis Junction, Maryland on
Read More »
Locomotive PRR 7240 was built in October 1959 by the General Motor' Electro-Motive Division (EMD)
Read More »
Check out this article where DCNRHS' 2023 RailCamp Scholarship tells the story of his camp
Read More »
Handling of United States Mail
Rule 530. When passenger trains handling mail cars are run in two or more sections, mail cars will, if practicable, be placed in the first section.
Northern Pacific Railway Company, Rules and Regulations Operating Department, Effective June 1, 1899.
Historic 1923 Pullman on the mainlines of America at Mableton, Georgia
Travel a Legend: Pullman Dover Harbor
Join our Trip News mailing list
---
By submitting this form, you are consenting to receive marketing emails from: . You can revoke your consent to receive emails at any time by using the SafeUnsubscribe® link, found at the bottom of every email.
Emails are serviced by Constant Contact
Ever want your own Pullman reproduction blanket? Or how about one of our Dover Harbor T-Shirts? Come take a walk through the Company Store! We have those items and more.
Help DCNRHS when you shop!
You shop, and merchants give back. Sign up at   
For more information and how to find us, click here.
Buy posters of our photos & more at our digital store! Take a look at our Zazzle Store by using the above QR code.     
Please click text above to download your own copy of the 2023 calendar.