| Date | Destination | Title | Description | Details | Reserve Now |
| --- | --- | --- | --- | --- | --- |
| May 7, 2023 6:00 PM | Army Navy Country Club Arlington, VA | DOVER HARBOR 100th Anniversary Celebration and Banquet | Join us as we celebrate Dover Harbor's 100th birthday year in 2023! The celebration begins at 6 PM with a social hour (cash bar), followed by a seated dinner. The Dover's Chief Mechanical Officer (Jim Lilly) and Chief of Onboard Services (Kevin Tankersley) will share remarks on the Dover's history and their experiences with the car. Whether you've worked on the Dover Harbor, travelled as a passenger, or supported behind the scenes, come out to celebrate in 1920s style. | Tickets are just $75.00.  Tickets are on-sale now and open to the general public.   Complete details are available here. | Ticket sales close 4/24/2023. Reserve on-line now here. |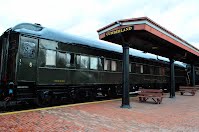 We are selling for a limited time special commemorative DOVER HARBOR 100th Fundraiser items to
Read More »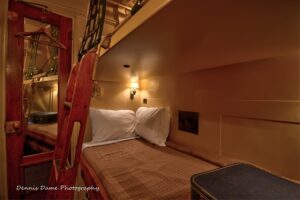 Congratulations to our Pullman DOVER HARBOR, who was constructed 100 years ago this year. We
Read More »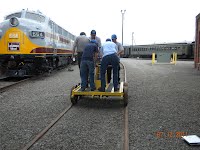 We are now accepting applications for students in grades 9 – 12 to attend RailCamp
Read More »
Rule 8. Before coupling air hose or doing other work between the cars of a train, they [employees] must see that their position is known to the men with whom they are working, and that they are protected against the movement of the train.
The Baltimore & Ohio Railroad Company, Safety Rules, Effective May 1, 1920
Historic 1923 Pullman on the mainlines of America at Mableton, Georgia
Travel a Legend: Pullman Dover Harbor
Join our Trip News mailing list
Ever want your own Pullman reproduction blanket? Or how about one of our Dover Harbor T-Shirts? Come take a walk through the Company Store! We have those items and more.
Help DCNRHS when you shop!
You shop, and merchants give back. Sign up at   
For more information and how to find us, click here.
Buy posters of our photos & more at our digital store! Take a look at our Zazzle Store by using the above QR code.     
Please click text above to download your own copy of the 2023 calendar.